We are more than ever in the digital age. Employees are faced with the need to evolve around a world adapted and converted to IT in order to anticipate and meet the challenges of technological change.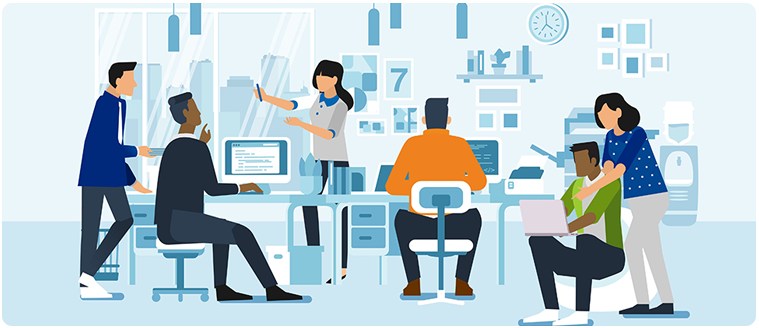 Avaliance, to help you secure your infrastructure and improve your digital workplace
These IT transformations require IT & Telecom performance and the implementation of thedigital Workplace. With its experience, Avaliance offers its clients its expertise to support them in the management of infrastructures, processes and IT services.

How can we accompany you?
Since its creation, Avaliance has been able to position itself on large-scale infrastructure and IT services projects. Indeed, Avaliance accompanies its customers in their projects of redesign, optimization, implementation of different bricks such as :
Datacenter relocation and modernisation
The DataCenter is the central/critical heart of companies today. An interruption in service can quickly add up to millions of euros, which is why it is important to be aware of certain aspects such as :
The choice of the site
The study of topologies
Electricity
Brightness
Fire Protection Systems
Cabling
Telecom access
Network, systems and security infrastructures
Safety and security, etc.
Avaliance assists its clients in the analysis of the existing situation and offers its expertise to accompany you in your reflection on your DataCenterprojects : implementation, redesign, modernization and relocation.
Network, security & systems infrastructures
Technical, organisational and financial feasibility studies.
Support in the design of architectures, in the drafting of specifications and in the management of the integrator
Analysis of technological opportunities in WAN, LAN and WLAN network infrastructures and security (FW, IPS, IDS, etc.) in relation to the existing situation
Implementation of Metrology & performance indicators

Analysis of

Technical constraints related to system infrastructures, in terms of performance, capacity and evolution
Support in the choice and sizing of storage and backupplatforms
Definition of operational, technical and organisational requirements and constraints inActiveDirectory transformation projects
Implementation of the digital workplace
Support in the choice of IT services (collaborative tools, digital environment for meeting rooms, telephony and unified communications, etc.)
Identification of integration requirements at IT infrastructure level
Training for users of the new uses
IT/Telecom cost optimisation 
Identifi

cation of

IT CAPEX and OPEX cost centres (hardware, telecom access, licences, outsourcing, etc.)

Benchmark with the benchmark related to your sector of activity

Support in the

optimization of IT/telecom expenses