Avaliance is an information system consulting firm that has known how to draw concrete benefits from the transformation of its clients for 10 years. Our perfect knowledge of the company and its realities, our human values, combined with the best of technology, allow us to offer a 360 degree support to CIOs whatever their size.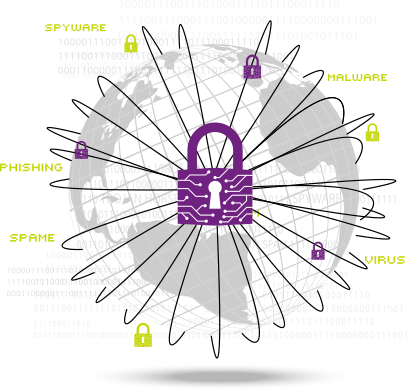 The threat to the SI planets...
As the use of digital technology explodes and more and more employees work from home, the need to secure IT systems has never been more pressing. The daily evolution of attacks and the increasing inventiveness of hackers reveal the importance of maintaining an irreproachable level of security for one's information system.
"The daily evolution of attacks and the increasing inventiveness of hackers reveal the importance of maintaining an irreproachable level of security of one's information system."
Our super-consultants to serve Security!
Based on international methodologies and standards (ISO27k, CISA, PCI-DSS, ISAE...), our seasoned consultants are at the forefront of the fight, always ready to fight back! We support you from A to Z in setting up your SSI governance, the operational implementation of your security and we assist you in defining your security policy so that it is in line with your business objectives, your regulatory and legal constraints.
Technical AND/OR organisational audit 
Compliance, vulnerability and architecture audits with penetration tests or simulated computer attacks to assess IS security.
Implementation of performance and safetyoptimisation measures
Checking that the company follows procedures, laws and regulations
Definition of a quality level for ISS management within a company.
Integration of best practices from functional and technical reference systems (e.g. ISO 27001)
User awareness 
Security management of your IS
ISMS (Information Security Management System): the implementation of all information security management processes according to ISO 27k.
PSSI (Information System Security Policy): drafting of the reference document to maintain control over compliance with security rules and to make all users aware of the associated risks.
Risk analysis (EBIOS, MEHARI, ISO27k): identification of assets at risk, anticipation of risk scenarios and associated impact and treatment to protect against threats that may have an impact on security.
IS Governance: implementation of IS Security Governance to verify compliance with IS security rules and the quality of its integration
Project management in IS security.
Continuity management: creation of Business Continuity Plans (BCP) and Business Resumption Plans (BRP) to ensure the backup of information in the event of a disaster.
Authorisation management: advice on the implementation of an authorisation management policy to secure the IT infrastructure, reduce management costs and improve the quality of service for employees.
IS Security Incident Management: for extremely fast service restoration.
Design of IS security architectures: meeting the functional and technical needs expressed by companies, taking into account the various known constraints.